BOOK 1 THE DEVIL'S BAND
OUT NOW IN eBOOK & PAPERBACK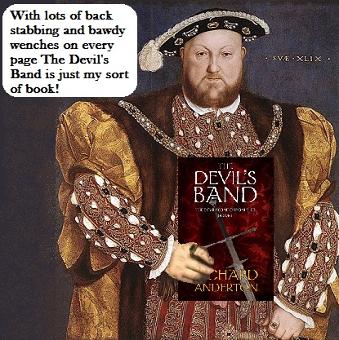 ABOUT THE DEVIL'S BAND - as Henry VIII's personal astrologer, Thomas Devilstone enjoyed a life of wealth and ease but after he's sentenced to death for practising witchcraft he's forced to flee abroad and join the last Yorkist rebels plotting to overthrow the Tudors. With the help of three more fugitives from Henry's tyranny, Thomas devises an incredible scheme to restore the House of York but things don't go quite according to plan! Liberally sprinkled with lots of swash and buckle, The first part of The Devilstone Chronicles takes the reader on a thrillingride through the darker side of 16th Century Europe.
Go to The Devil's Band Website
eBook £1.99 (US $2.55)
paperback £9.99 (US $15.03)
BOOK 2 THE DEVIL'S LANCE
OUT NOW IN eBOOK & PAPERBACK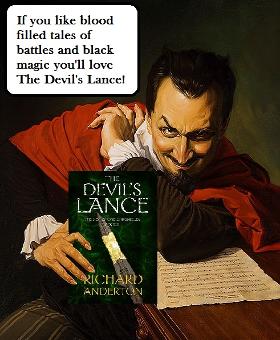 ABOUT THE DEVIL'S LANCE - since the fall of Rome, kings and emperors have coveted the only Christian relic that guarantees victory in battle but the spear that pierced Christ's side at the Crucifixion is jealously guarded by the Hapsburg Holy Roman Emperors. With war clouds gathering over the Danube, the French King, the Ottoman Sultan and the sinister Lord Dracul, a feared warlord who claims descent from the infamous Vlad 'the Impaler', all yearn to possess this priceless talisman – but none can do so without the help of the outlawed English alchemist and sorcerer: Thomas Devilstone.
Go to The Devil's Lance Website
eBook £1.99 (US $2.55)
paperback £9.99 (US $16.29)
BOOK 3 THE DEVIL'S PEARL
OUT NOW IN eBOOK & PAPERBACK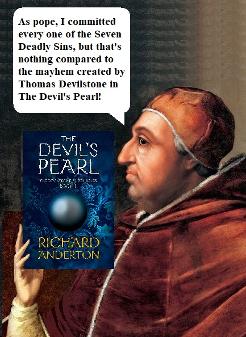 ABOUT THE DEVIL'S PEARL - Henry VIII wants a new wife and only Thomas Devilstone can free the King of England from his marriage vows! But Thomas is marooned on a deserted island with a mysterious sorceress who claims to be the daughter of Pope, Alexander VI... Set against Henry VIII's attempts to divorce Catherine of Aragon, and the 1527 Siege of Rome, this third instalment of The Devilstone Chronicles sees Thomas and the men of the Devil's Band battle bloodthirsty corsairs, treacherous courtiers and an army of mutinous mercenaries as they search for both a lost treasure and a way home.
Go to The Devil's Pearl Website
eBook £1.99 (US $2.57)
paperback £9.99 (US $12.99)