CASTEL MIRABELLO
strategic key to the battlefield of pavia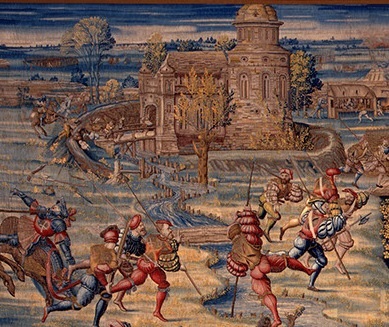 The Castel Mirabello, detail from the Battle of Pavia tapestry woven 1528-1531 by Bernard Van Orley
Built by the Visconti, the predecessors to the Sforza Dukes as feudal overlords of Milan and Pavia, the Castel Mirabello was never meant to be a defensive stronghold. Situated in the heart of a vast walled deer park, which stretched for three miles to the north, east and west of Pavia, Mirabello was a hunting lodge intended to house the ducal court in luxurious comfort whilst they enjoyed the thrills of the chase.
During the Battle of Pavia [1525] the French king Francis recognised the strategic value of Mirabello's location and fortified the position to control the northern approaches to the city. At the beginning of the siege, Francis made Mirabello his headquarters, and stationed the French baggage train in the surrounding parkland, but as the months dragged on, the king moved his personal quarters to the Porta Repentina a mile to the west.
The Imperial Army sent to relieve Pavia knew nothing of this and launched a daring attack on the lodge in the hope of catching Francis asleep in his bed. Though Francis was not at Mirabello this raid quickly escalated into a full scale battle and the result changed the course of European history.