THE PALACE OF HAUTE PIERRE
Home of the Yorkist Court in Exile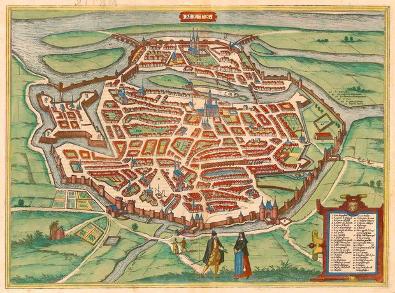 Map of Metz published in 1593 by Braun & Hogenberg
In 1513 Richard de la Pole, the exiled Duke of Suffolk and last Yorkist heir to the throne of England, was forced to seek refuge in the free city of Metz. He arrived with plenty of gold in his pockets, a gift from aunt Margaret of Burgundy, and leased the ruined Abbey of St Symphorien from Metz's Bishop with the intention of building a sumptuous palace worthy of a prince.
During the 16th Century Metz was a free city within the Holy Roman Empire and the original abbey had been destroyed during a French siege fifty years earlier. Richard quickly transformed the ruins into his promised palace but though it was surrounded by a high wall and a moat the finished buildings looked more like the home of a Venetian merchant than a warrior king.
Fifty years later, Haute Pierre was demolished to build the 'star fort' shown in the map of 1593 and though no paintings of the palace have survived the name lives on in the Central Metz street name Rue Haute Pierre.