JOHN STEWART DUKE OF ALBANY
THE TUDORS' SCOTTISH NEMESIS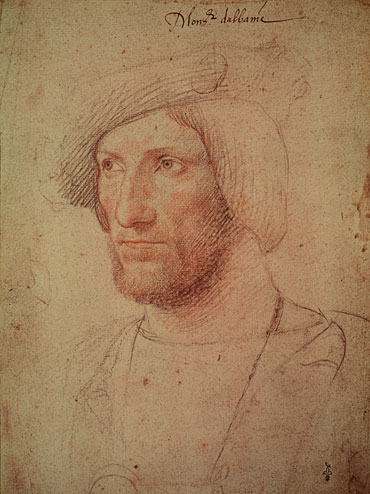 John Stewart Duke of Albany painted c 1525
For most of his life John Stewart Duke of Albany [c.1481-1536] was heir to the Scottish throne but though he boasted one of the most noble pedigrees in Scotland he never became king.
Albany's father, Alexander Stewart, was the younger son of the Scottish king James II, and he boasted Lord High Admiral of Scotland among his many titles. However the rash and impetuous Alexander Stewart conspired with the English to depose his elder brother, James III, and had died in exile when his son was still a boy.
In 1504 Albany's Scottish cousin became James IV and in 1505 Albany married his French cousin, the fabulously wealthy heiress Anne Countess of Auvergne. In 1512 a son born to James IV's Tudor wife Margaret, sister to Henry VIII, relegated Albany to third in line to the Scottish throne but in 1513 James IV was killed at the Battle Flodden, fighting his English brother-in-law, and the struggle for control of his infant son's regency began.
Albany was in France when James IV died and though he hurried back to Scotland aboard a fleet of eight ships it seemed that he was too late. Margaret had quickly married the powerful Earl of Angus and with his support she'd seized control of her royal son's council. Undaunted, Albany kidnapped the eighteen month old James V and besieged his mother in Stirling Castle. When she surrendered, Margaret was sent into exile in England but though he was now sole regent, Albany preferred to exercise his power through lieutenants whilst he returned to his wife's estates in France.
Despite his curious self imposed exile Albany was not idle. In 1517 he renewed the Auld Alliance with France and secured the promise of a French bride for the now five year old King of Scots. He also secured papal confirmation of Scotland's ancient rights and privileges from Pope Leo X. In 1521, having seen his foreign policy triumph, Albany returned to Scotland whereupon Margaret Tudor abandoned her husband and sided with her old enemy. The Earl of Angus was sent in chains to France but when James V's minority was declared to be at an end, on the boy's twelfth birthday, Angus returned to Edinburgh and succeeded in banishing Albany.
Returning to France, Albany found the French king was sympathetic to his plight and Francis promised to support an invasion that would end Tudor influence north of the border once and for all. Unfortunately for Albany, the renewal of Francis' war with the Hapsburg Holy Roman Emperors put an end to these plans. Despite this setback, Albany joined the French king as he marched south to invade imperial Italy and was put in charge of an army that was supposed to capture the Hapsburg Kingdom of Naples. In this Albany failed but he remained in French service until his death in 1536.