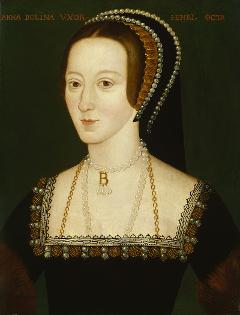 Copy of 1534 portrait of Anne Boleyn now in the National Portrait Gallery London
BRIDGET WILTSHIRE'S CONFESSION – who was the woman whose dying words sent Anne Boleyn to the scaffold?
There is only one letter in the British archive written by Anne Boleyn to a female friend. This letter was produced at Anne Boleyn's trial and a single phrase "And therefore, I pray you leave your indiscreet trouble, both for displeasing of God and also for displeasing of me…" was taken to be proof of Anne's adultery, incest and conspiracy against the king.
Though to modern eyes this phrase is hardly conclusive evidence, Anne's enemies needed little to convince them of the queen's guilt and the prosecutor's report into Anne's behaviour declares: "And note that this matter was disclosed by a woman called Lady Wingfield who was a servant of the said queen and [who] shared the same tendencies. And suddenly the said Wingfield became ill and a little time before her death she showed the matter to one of those..."
In other words, 'Lady Wingfield' made a deathbed confession as to Anne's lewd practices but no record survives as to what that confession may have been, or if it even existed. Moreover, as Lady Wingfield had died at least two years before Anne's trial,she could not defend herself or her former friend from the allegations made against them. So who was the woman whose dying words supposedly condemned Anne Boleyn to the executioner's blade?
Though the exact date of her birth is unknown we do know that Lady Wingfield was born Bridget Wiltshire (also spelt Wilshire, Wilshere or Wylshyre) sometime in the late 1490s. Her father Sir John Wiltshire was Lord of Stone Castle, a manor close to the Boleyn family's estate at Hever, but Bridget's first position at court was as lady-in-waiting to Catherine of Aragon. In 1520 Bridget was present at the Field of Cloth of Gold, the sumptuous meeting of Henry VIII and the French King, held near Calais where her husband, Sir Richard Wingfield, was Lord Deputy.
Sir Richard and Bridget had married in 1513 and she bore him no less than ten children in twelve years. Sir Richard died in 1525 whereupon Bridget married Sir Nicholas Hervey of Ickworth, by whom she had another six children. Sir Nicholas was ambassador to the Holy Roman Emperor Charles V, who was the nephew of Catherine of Aragon. Nevertheless, Sir Nicholas was a fervent ally of the Boleyns and his wife remained at court after Catherine's fall by becoming lady-of-the-bedchamber to the new queen. Judging by Anne's letter, she and Bridget became close friends but the two fell out when Bridget became betrothed for a third time.
Sir Nicholas died in 1532 and just a few months later Bridget married Sir Robert Tyrwhitt of Kettleby. Unfortunately Anne heartily disapproved of her friend's new husband and Bridget left court as a result. She died sometime in 1534, after giving birth to twins named Joan and Arthur, but not before Anne had attempted a reconciliation through her infamous letter.
There has been much speculation as to what it was that Anne objected to in Bridget's last husband. It's possible the new queen felt Bridget had remarried too soon or that her friend had been 'intimate' with Sir Robert whilst Sir Nicholas was still above ground. Alternatively Tyrwhitt was known to be close to Charles Brandon, Duke of Suffolk, and his wife Mary (Henry VIII's younger sister) who loathed the Boleyns.
Whatever the reason for her estrangement, nothing more is heard of Bridget after January 1534, when she was among those sent a royal gift to celebrate New Year, yet her relatives are still close to the crown. Bridget is HRH Prince Charles 16 x great aunt and Lady Diana Spencer's 14 x great aunt!
Read Anne Boleyn's Letter here