DILSTON CASTLE
Ancient Seat of the Devilstone Family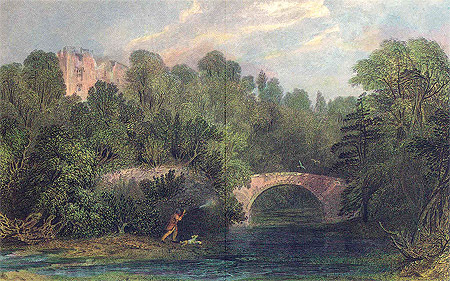 The ruins of Dilston in the 19th Century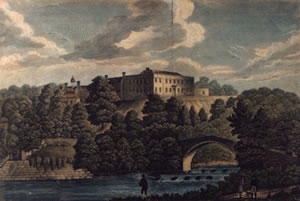 The stately home built by the Radcliffes
Situated on the south bank of the River Tyne, the medieval Dilston Castle is now a picturesque ruin in the grounds of a school for children with learning difficulties but it was once the seat of the real Devilstone family.
The barony of Dilston was separated from the Royal Manor of Corbridge by William ll and given to Aluric of Corbridge, who was Sheriff of Northumberland between 1107 and 1118. His son, Richard de Dyvelston, inherited the barony but he died childless and on his death his lands passed to his brother William.
When William's descendant, Lucy de Dyvelston, died in 1317 she too left no heir so the manor passed to a relation, William de Tyndale. In 1379 the Claxton Family of Durham, distant cousins of the de Tynedale's, claimed the manor and were granted rights of occupation. Around 1416 Sir William Claxton began building the fortified tower house that still stands today.
In the 17th Century the Radcliffe family inherited Dilston and after they'd been ennobled as the Earls of Derwentwater, they built a grand stately home next to Claxton's tower house. In the 18th Century, James Radcliffe and his brother Charles, who were both staunch Catholics, supported the doomed Jacobite rebellions that plotted to restore the House of Stuart to the English throne. In 1745, after the last of these rebellions had failed, Charles followed James to the scaffold and Dilston Castle was seized by the crown. The site has been used as a hospital and school ever since.
Today the ruined castle is in private ownership, and not open to the public, but there is more information about the history of Dilston at: http://www.friendsofhistoricdilston.org/