RICHARD DE LA POLE
THE LAST WHITE ROSE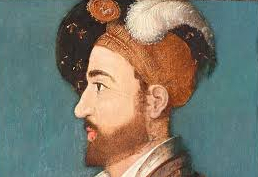 Richard de la Pole [1480-1525], fifth son of the Duke of Suffolk, had good reason to hate The House of Tudor. Three of his brothers had been killed, executed or imprisoned fighting the Tudors and by 1525 he'd been the subject of countless assassination attempts orchestrated by Henry VIII's Machiavellian Lord Chancellor Cardinal Wolsey.
Richard de la Pole had been just five years old when his elder brother, John de la Pole Earl of Lincoln, had been named as heir to Richard III, the last king of the House of York. After the Glorious Sun of York had been killed at the Battle of Bosworth, the de la Poles had tried to make peace with the victorious Tudors but the family were too well connected to left alive. Provoked into rebellion, John de la Pole had been killed in 1487 at the Battle of Stoke, William de la Pole had been imprisoned in the Tower of London (he was still a prisoner when he died in 1539) and Edmund de la Pole had been beheaded in 1513.
Richard however managed to escape to Flanders where his aunt, the Yorkist princess Margaret of Burgundy, bestowed on him the title of White Rose and made him swear to avenge his brothers' deaths. To fulfil his vow to restore the House of York, Richard offered his sword to the French King Louis XII, and his successor Francis I, in exchange for men and money to depose the Tudors. In 1513 an attempted invasion was abandon because of bad weather but Richard was soon ready to try again.