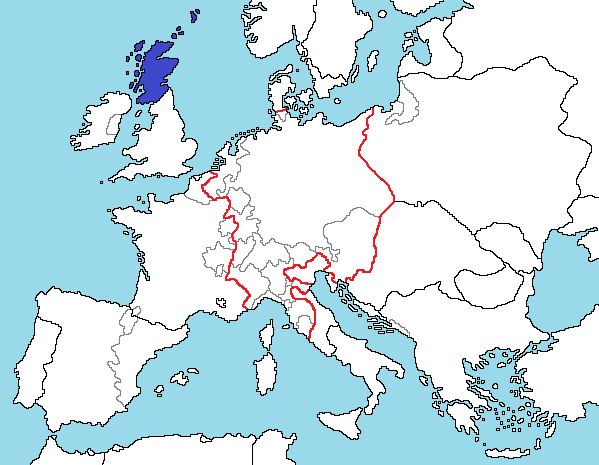 In the 11th and 12th Centuries, the English Plantagenet kings tried to extend their rule over the whole of the British Isles but whilst the Anglo-Norman invasions of Ireland and Wales were largely successful, Scotland proved to be more problematic.
During the reign of Henry II [1133-1189], the Scottish king William I [1143-1214], who was also Earl of Northumbria, joined a revolt of English barons but the rebellion failed and William was captured. As the price of his freedom, an outraged Henry demanded that his prisoner sign a treaty acknowledging the English kings as Overlords of Scotland in perpetuity however, though William agreed, the treaty did not survive Henry's death. In 1189 Henry's son Richard the Lionheart sold Scotland back to the Scots to fund his crusade.
Anglo-Norman ambitions north of the border were ended by the disastrous defeat of Edward II's army at the Battle of Bannockburn [1314] but the border country remained in a state of almost constant warfare. For two hundred years English and Scottish kings fought a proxy war by encouraging their powerful border nobles to raid each other's territory but in 1509 the accession of the Tudor king Henry VIII to England's throne changed the rules of this ancient game.
Henry was determined to strengthen his tenuous grip on power by rebuilding England's empire in France, which had been lost during the Hundred Years War [1337-1453]. To this end, Henry allied himself with his wife's powerful Hapsburg relatives, who were conducting their own war against the French king Francis I, and in 1513 he invaded France from Calais, England's last possession on the French mainland. Henry led the army in person, and won several minor victories, but Francis revived the 'Auld Alliance' with Scotland and demanded that the Scottish king James IV open a 'second front'. Even though he was married to Henry VIII's sister, Margaret, James needed little encouragement to attack his hereditary enemy.
Unfortunately the resulting campaign was a disaster for Scotland. James IV was killed at the Battle of Flodden [1513] and his army routed. After James IV's death his widow Queen Margaret acted as regent for their young son James V but the Scottish court soon split into pro and anti-Tudor factions. John Stewart Duke of Albany, who had his own claim to the Scottish throne, led the opposition to Margaret and after kidnapping the boy-king he forced the Tudor Queen to flee back to England. By 1525 the tables had turned, Margaret had regained power and Albany had been exiled to France where he petitioned the French king for help. Francis, who still embroiled in a war with the English and the Hapsburgs, readily agreed and suggested a joint invasion with Henry VIII's other implacable enemy, the Yorkist rebel Richard de la Pole.